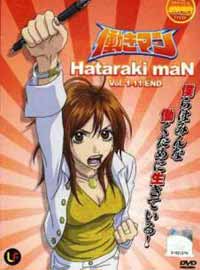 AKA: 働きマン (Hatarakiman) / Working Man
Genre: Slice of life drama
Length: Television series, 11 episodes, 28 minutes each
Distributor: Currently licensed by Section 23 Films through its Maiden Japan print.
Content Rating: PG-13 (Language, sexual overtones, brief nudity.)
Related Series: N/A
Also Recommended: Honey and Clover, Momoiro Sisters, Kimi wa Petto (non-anime), Sex and the City (non-anime)
Notes: Based on the manga by Anno Moyoko, which is currently running in Morning Magazine, a weekly magazine for salarymen.
Rating:





Hataraki Man
Synopsis
Hiroko Matsukata is a new breed of woman who works for a magazine company. She puts all she has into her work, and is known as a strong, straight-forward working girl, who can at will turn herself into Hataraki man (working man) mode. Despite Hiroko's success at work, her life lacks romance. This series chronicles various challenges and encounters that anyone with a steady job can relate to and appreciate.
Review
The Noitamina block has done it again, delivering an anime series that--for so many reasons--could have just as well been a live-action drama. So why is it that this series was made into an anime instead?
That is something that I always ask myself when viewing animation. Animation lends something to a story that live-action cannot...and for every possible reason, this anime series "reads" more like a drama than your typical anime--and I don't think that is a weakness. It's just, for people who watch anime for all its flashy "differences," this series might strike them as a little boring.
But this title is anything but. Right from the beginning I was drawn in by the colorful, realistic, and downright loveable characters. They are complex, and just like people in real life, your intial impression can sometimes be incorrect, while other times it is right on the money. Immediately you are able to put yourself right there in the heroine's shoes, and relate yourself to one, if not several, of the characters. This might have to do with the stellar cast (Tanaka Rie as Hiroko, for starters), but I think credit mostly belongs to the mangaka, Anno Moyoko of Sugar Sugar Rune fame. Her innovative and frank writing style cut right to the heart of an issue, without being overly preachy (like Miyazaki tends to be) and still humorous. Sometimes, a moral of a story can be unclear...social commentary? It seems to me we are supposed to evaluate our involvement in our work. What are we sacrificing for our jobs? Is it worth it? Constantly we see Hiroko and her coworkers struggling with this--and it seems to be the overall theme of the show, which makes sense. More Japanese people are passing up marriage and family-rearing because they feel they would be unable to keep up the lifestyle they have grown accustomed to, and their work lives would suffer.
Is this right? Is this best? Things are never that clear-cut in the Japanese way of thinking, and Hataraki Man provides excellent insight into this--in a poignant, heartwarming, yet bittersweet manner. Just as the teaser promised--it might just make you appreciate your job a bit more, no matter how drab, mundane, or stressful it might be. Sometimes it's the only thing that gets you through the day.
Production-wise, Noitamina has made a name for itself, providing high-quality in all of its titles. Hataraki Man is no exception. The colors are vivid, the artwork is both eye-catching and loyal to Anno's hand, and the music is appropriate, setting the mood properly. (The opening theme and ending theme are especially enjoyable.) The voice-over cast is exceptional, and the writing is what I have come to expect from Anno Moyoko, quite probably one of the most under-rated mangaka out there.
Hataraki Man is like that ice-cold drink after a long day of work--or that feeling you get when you kick off your shoes and sit back after working your butt off. It's refreshing, relaxing, recharging. I have lost track of the times that--in the middle of a workday, I am totally fried, and I remember Hiroko feeling the same way. And it makes my day easier. Sometimes, it's nice knowing there is someone out there who knows exactly what you are going through.
Take away a star if you are wanting flashiness and non-stop action. You don't need a brilliant mind to enjoy this series, but it isn't your typical blockbuster. This series hit me at just the right time. If you have no interest in the workplace, and are looking for something a little more fantasy-like, you might want to skip this over. — Melissa Sternenberg
Recommended Audience: Sex is occassionally a topic of conversation, and there is slight nudity, though always from behind. While appropriateness is one thing, this series has very little people would find objectionable, but the topic matter would probably not be of interest to anyone who hasn't worked full-time. Therefore, this title is recommended for college-aged and above.
---

Version(s) Viewed: digital source, television broadcast.
Review Status: Full (11/11)
Hataraki Man © 2006 Moyoco Anno / Kodansha / Hataraki Man Committee