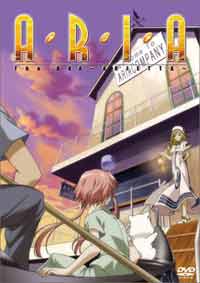 AKA: アリア ジ オーブイエー ~アリエッタ~
Genre: Slice of life drama
Length: OAV, 30 minutes
Distributor: R1 DVD from Right Stuf International
Content Rating: PG (Light adult themes.)
Related Series: Aria the Animation, Aria the Natural, Aria the Origination
Also Recommended: Aria (any season), Yokohama Kaidashi Kikou, Haibane Renmei, Sketchbook ~Full Color's~
Notes: Based on manga by Amano Kozue, licensed and released by Tokyopop together with its manga prequel Aqua. Aqua and Aria are both serialized in Mag Garden in Japan.

The OAV has been included in the box set for Aria the Origination, released in North America by Nozomi Entertainment.
Rating:





Aria the OAV ~Arietta~
Synopsis
"I've become a Prima. That's why... Alicia-san won't return anymore."
Waking up from the strange dream, Akari ponders how and why she was chosen as Aria company's new trainee and the inevitable future that will eventually separate her from Alicia and make her forge her own path as Aria Company's chief undine. She decides to ask Alicia about it.
Review
And so, I've got another Aria title on my hands. Time to put away the fan and view this show with an unvarnished, "unbiased" gaze. I'm gonna be harsh, but fair. No more mr. Fan guy. No more babbling, and no more embarrassing lines.
....at least, that's what I kept telling myself before sitting down to watch the episode.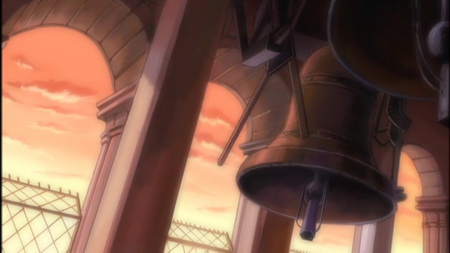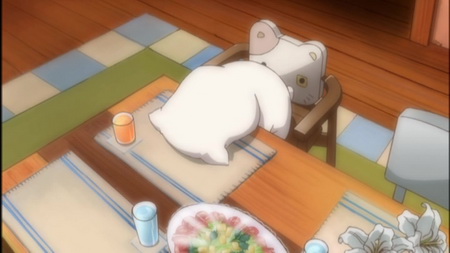 I'm going to go ahead and assume that, if you are reading this review, you've already seen and liked the two first seasons of Aria, to which this OAV can be considered an interlude in anticipation of the upcoming third season; Aria the Origination. The overall feel of Aria the OAV ~Arietta~ is definitely that of a normal episode that could have been taken straight out of any of the TV seasons, which, of course, is no bad thing.
However, since it IS an OAV, you can also expect some top-notch visuals. Not that either of the TV shows were any slackers in that area for the most part (just occasionally), but you can really see the difference in this case. Character designs are definitely familiar, but also a bit different, mostly in the facial designs and expressions. In all honesty, it took me a minute to get used to this, but it was a pleasant minute all the same, and the visual boost was certainly nice too.
The visuals wasn't the only thing about the OAV that took me by surprise, however. The story of the episode, as you can read in the synopsis, definitely floored me with its sheer force of melancholy, immediately following the exceptionally slow intro song. It wasn't a feeling I was used to getting from this particular show, and for a while, I wondered just where this OAV was going. But then, having followed the TV show for a full 39 episodes, I was pretty sure the show wouldn't let me down, no matter what.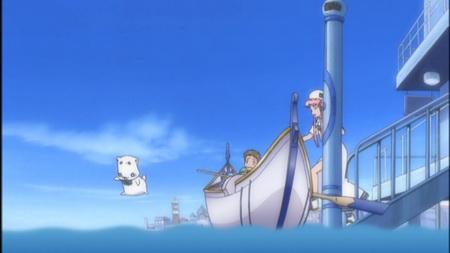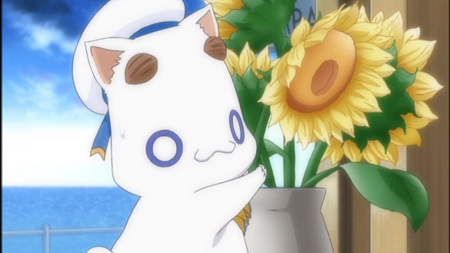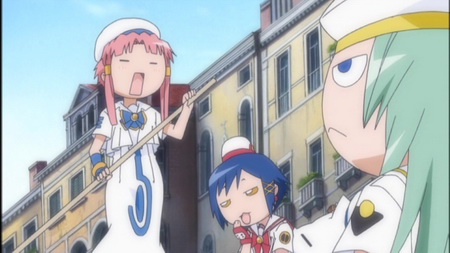 Maybe the OAV even felt a little bit richer than your average episode. The extra ten minutes worth of runtime probably played some part in that, but the story is tightly paced -- even for a fairly slow show -- and the overall flow, no pun intended, fit the show to a tee. Just about everyone from the show is included too, if only short scenes for some of them.
But then, character interaction and quiet, serene atmosphere has always been Aria's greatest boon, along with the optimistic and curiously non-pretentious outlook on life. That in mind, Aria the OAV ~Arietta~ is fairly reflective, comparable to the eleventh episode of Aria the Animation, insights on the past and the future and how it influences the girls' lives. In fact, you might even say that the OAV itself bridges said episode with the ending of Aria the Natural, filling in thoughts and feelings, completing what is pretty much the beginning of the story of Aria, company and all, and, inevitably, the future. And no matter what it feels like when you start it, if you ever loved any part of Aria before this, the episode will raise that familiar, dopey smile by the time it is over. Maybe you'll even have some lumps to force back down your throat.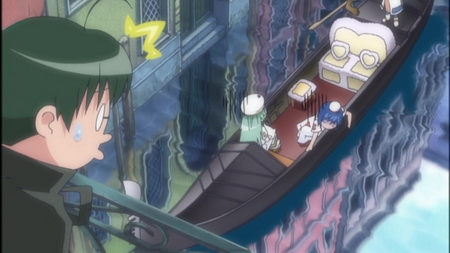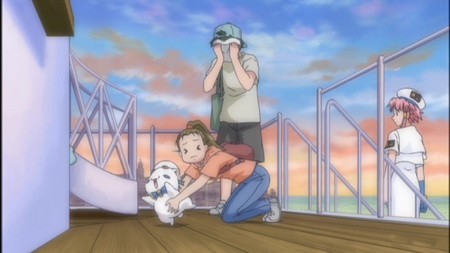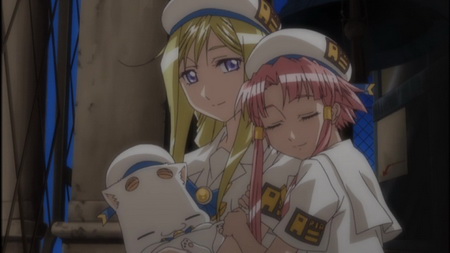 Naturally, this OAV can be approached with the same caveats as the earlier seasons. It's inevitable, though, that if you had any love for the TV shows preceeding this OAV, then Arietta will get under your skin the same way Animation and Natural did, with absolutely no regard for things like pride, cynicism or stoicness. You can try to resist if you like, but you will fail, and fail miserably.
Aria the Animation, Aria the Natural and now Aria the OAV ~Arietta~.... there are simply no shows I ever wanted an official release more than with these, and the fact that companies are willing to give nich
From the very beginning, Aria hasn't lost any of its luster. Nor do I think it will when Aria the Origination arrives, a time I'm looking forward to more than ever. — Stig Høgset
Recommended Audience: The beginning is a bit of a one-two punch of melancholy, and the show's reflections on things marks this as "not for the kids". However, there simply isn't anything about this show that really makes it unsuitable for anyone. It's a completely safe show, bathed in a heartwarming glow rarely rivaled.
---

Version(s) Viewed: R1 DVD, Japanese with English subs only
Review Status: Full (1/1)
Aria the OAV ~Arietta~ © 2007 Amano Kozue / Mag Garden / Aria Company