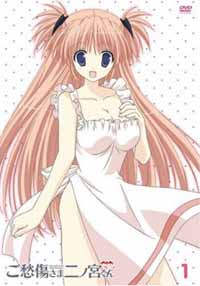 AKA: ご愁傷さま二ノ宮くん (Goshuushou-sama Ninomiya-kun)
Genre: Romantic comedy / boobfest
Length: Television series, 12 episodes, 23 minutes each
Distributor: Currently licensed by FUNimation.
Content Rating: 15+ (Violence, fanservice, possibly some language.)
Related Series: N/A
Also Recommended: Golden Boy, Melancholy of Haruhi Suzumiya, Chobits.
Notes: This anime is based on a light novel by Daisuke Suzuki. There is also a manga adaptation.

Good Luck! Ninomiya-kun was removed from crunchyroll on August 31st, 2014.
Rating:





Good Luck! Ninomiya-kun
Synopsis
Fresh from training martial arts in the snowy mountains, Ninomiya Shungo returns to his hometown and school, only to become a part in the life of Tsukimura Mayu. The girl in question actually suffers from androphobia, which is especially unfortunate, seeing as she's a succubus with some rather inconvenient latent abilities.
This eventually becomes the reason why Shungo is roped into helping her overcome her fears... which means the two will be living together in a rather intimate fashion.
Review
For the record, I pretty much knew what I was setting myself up for when me and Mel put this show on our synchro session scedule. That, and any pictures I came across from it made it very, very clear what kind of show it was. Surprisingly enough, the opening minutes of Ninomiya-kun managed to take me by surprise. In it, we see Shungo take the "Zangief school of martial arts training regime", which involves kicking bears in the head.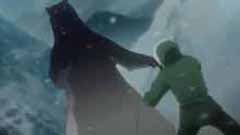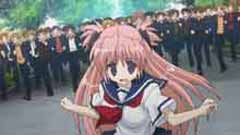 If I had any hopes of at least be presented with a lead male that wouldn't make me want to introduce my cranium to a falling anvil, then the intro quickly took care of that, followed by a scene that can only be described by "Shingo-kun being (sexually) assaulted by a group of girls". And after establishing the fact that he's generally a wimp at heart despite his mad bear-kicking skills, the show then goes ahead with the introduction of the FEMALE lead -- well, one of them, anyway -- by having her land on him by way of millitary helicopters.
Barely five minutes into the show, and I already had to surpress the urge to sing Monty Python's "Sit on my face". This is going to be a bumpy ride in more ways than one, if you catch my drift. DURR HURR!
...please kill me now.
So, after waking up from unconsciousness, he finds himself in bed with the strange girl. Yeah, the guy trains martial arts by beating up bears twice his size, and he's taken off guard and sent into unconsciousness by a girl's soft butt to his face? I'm totally buying that. Anyway, her name is Mayu, and she's got pink hair, huge boobs and is clad in a rather low-cut white dress. She basically looks like Miharu from Girls Bravo, sans the dots on her forehead. Her mannerisms are all pure otaku bait. She's a complete airhead, not to mention clumsy, perpetually helpless and painfully shy, something that really escalates once her little secret is uncovered. And what secret is that? You see, she's a succubus, which means she's subconsciously attracting the male populace at the school she's attending, as if her chest isn't doing a good enough job at that already. But this is actually worse. See, when she gets nervous, she involuntarily uses her succubus powers, which influences every single guy in her close vincinity. (Except Shungo for some reason.) And that's where we're introduced to the dumbest zombie scene I have ever seen.
Because of this, Shungo's sister -- together with some kind of secret agency of sorts, I guess -- puts together a plan to get Mayu used to guys, which consists of.... the two of them living together, sleeping together, bathing together... things like that.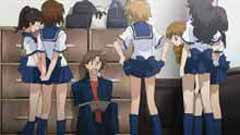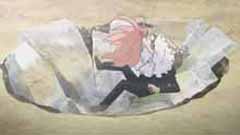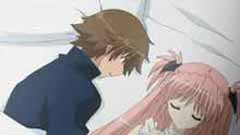 Later on, we meet Hojo Reika, the class president and the other token love interest. She's actually the leader of a huge conglomerate, but that doesn't stop the show from putting her in a maid uniform and having her serve under the Tsukimura family. And while she's definitely playing the part of the snotty, haughty elite student well, she doesn't complain too much over her situation, because, surprise of all surprises, she's interested in Shungo too. If that wasn't enough, it turns out she's a succubus as well. With a past, even, which means she'll be turning up in the childhood flashbacks we'll be going into a little bit later on.
Look, we all know where this is going. Shungo is forced to be close to Mayu, which leads to various... let's just call them embarrassing scenes. Which leads to a lot of "you walked in on us when we did something and totally blew it out of proportions". It also leads to the token beach scenes, the hotspring scenes and, naturally, the... well, actually, there are no festival or theme park scenes. Imagine that. Also, I would normally say "episodes", but the whole show seems to just do whatever it damn well pleases, which makes plot bridges brittle constructs to put it mildly.
Of course, there's also childhood memories thrown into the equation. In fact, I was rather surprised just how many of the main characters shared in these. And while said childhood memories aren't exactly brief encounters -- I guess that's something -- they seem to mostly serve as plot-hole fillings; a rather neat way for the show to get itself out of the corner it writes itself into. Not that there's much to write home about in the first place, but that's just how it goes. To reiterate, there are childhood memories -- the most overused cliche in shows like this -- lots and lots of childhood memories, childhood memories starring just about everyone important in this show. Well, "important" meaning "you'll be seeing them later on whether you like it or not".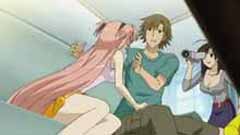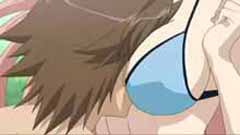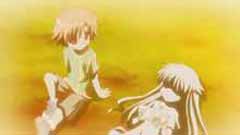 The show's title translates as "My Heartfelt Sympathy, Ninomiya-kun", a gesture I will gladly extend to anyone who's considering subjecting themselves to it. It doesn't have a single original idea to its name, and even if you're just in it for the T&A, there are better shows out there for that purpose. Its humorous moments aren't the least bit funny, nor is the dramatic parts very involving. It's the same tepid crap you'd get from shows like Shuffle, DearS, Final Approach or... yes, Girls Bravo. Except that even Shuffle had its moment with some of the side characters, Final Approach had some actual funny moments with the Men in Black and the Gay Sailor Brigade, and DearS.... actually, DearS is still horridly unfunny and creepy.
Basically, if you're passing by this show looking for some good, saucy fun, then keep looking. There's nothing to see here.
Ugh! Enough already. — Stig Høgset
Recommended Audience: This show is tailor made for teenagers. It's got the prerequisite violence and fanservice carefully tailored to their tastes. There might have been some language too -- I honestly don't remember. Nor do I really care.
---

Version(s) Viewed: digital source.
Review Status: Full (12/12)
Good Luck! Ninomiya-kun © 2007 AIC Spirits / Good Luck! Ninomiya-kun Production Committee