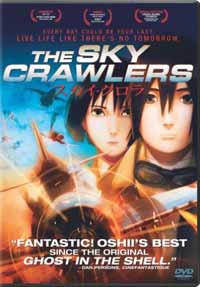 AKA: スカイ・クロラ (Japanese)
Genre: Sci-fi, drama
Length: Movie, 122 minutes
Distributor: R1 DVD from Columbia Tristar
Content Rating: PG-13 (some violence)
Related Series: N/A
Also Recommended: Ghost in a Shell
Notes: Based on the novel series by Hiroshi Mori.
Rating:





The Sky Crawlers
Synopsis
Kannami Yuuchi is a young pilot send to the Urisu base to replace a dead pilot. Unlike all pilots, he doesn't die and instead lives on to fight a make-believe war created by 2 giant industries (Rostock and Lautern) solely to entertain the public. At the base is their dour leader, Kusanagi Suito, who harbors a dark past. Being granted immortality without even having to save the world! Is that so bad? (But take my word for it; you'd be gloomy, too.)
Review
In the region where I lived, we have a term called pantang. It's a Malay slang translated loosely as "inauspicious". For example, if we were buying a lottery, we should never, ever say things like, "Sure lose" or "Won't strike" because chances are such words carry bad karma and will likely make the situation come true. Similarly, 'crawl' is pantang and carries bad karma. Now, if I were the creators, I'd never, ever put this word into the title of my movie. The problem with the movie is that it takes them 2 hours to crawl to the final climax (which is not very climatic, by the way) to tell the audience the following message; War. Is. Baaaaaaaaaadd. Hell, I know that, and I don't need 2 uninteresting hours for me to realize it. Now and Then, Here and There told the audience that same message repeatedly for 13 episodes, and yet each episode was equally gripping. Sky Crawlers on the other hand, pales in comparison; there's not really so much sky here as crawls.
The main characters are not very likable. They are so cold and emotionless that I don't find myself sympathizing with any of them. Kannami Yuichi, as the lead pilot, is boring. He makes Bateau from Ghost in a Shell look hilarious in comparison, though Bateau also had much better one liners than Yuichi. Yes, he can't die and can't feel anything because he can't die; this cliche has been used so often that it's now stale. But if the creators had made Yuichi less indifferent and exert more control and live each day to its fullest, it would have resulted in drawing the audience more into the movie. Instead I feel like a mind-numbing bystander and a silent observer. It's all very unmotivated.
I don't know if the creators had ever served in the military, but I have, and it is in my humble opinion that a good leader is someone who bonds well with his men, rather than just having excellent skills set. Here, he squad commander Kusanagi Suito is the exact opposite. She has excellent pilot skills, but we're never shown this. What we are shown is that she bonds rather poorly with her crew. I mean, how can she when she does not even speak or look at them? No wonder she has a dysfunctional crew! The only time she gets to pilot the plane, she's shot down and ends up crash landing. So she harbors a deep, dark secret hinted by the matronly chief engineer. The impact is lost because by the time the creators crawls round to telling it, I couldn't care less! Show the credits already! It's really frustrating when I keep getting such scenes. Then there's a pan to her looking pensiv, a pan to breath-taking scenery, long silence, a pan back to her, more silence, a pan to Yuichi looking at her, more silence, another pan at Sutio, even more silence while she keeps asking Yuichi, "Do you want to die? Should I shoot you?" And after that there's even more long silence. It's like re-living a nightmare as Scott Evil in the Austin Powers movies. Just shoot the poor chap already!!
I really have a problem with the long silence. It does take a while to get used to, this silence. You may get a little ambient wind noise, but on the whole there is not much music to generate the mood. Surprise, surprise; The Sky Crawlers actually have a full OST! But I really don't see the point of the OST because the sound section is so unmemorable. Maybe Kenji Kawai is losing his touch.
Reluctant as I am to say, there is one saving grace in Sky Crawlers; the fantastic graphics that Production IG never fails to deliver. I have read from another reviewer that he found the colors "washed out", but personally I felt that this pale palette suits the theme of the show. The airplane dog fights were breathtaking and the animation is so fast, crisp and clear in its blink-and-miss-it style. (So don't even think of blinking.) And I rather like the character designs; Kusanagi has the coolest, sharpest features ever! It's just that when they close up of her, sometimes her eyes are so huge you can see the iris and almost the white around it. That was when she stopped being the coolest. And then she went back to being the coolest when the camera zooms out.
At the time that I'm writing this, The Sky Crawlers is retailing in CDJapan at a 10% discount. Discounted goods so early after the date of release...sometimes the title just says all.
A weak pace and equally weak storyline that not even its stellar graphics can save. — Diane Tiu
Recommended Audience: Mature audience, preferably teens and above. Younger audience would be bored to tears.
---

Version(s) Viewed: R3 DVD
Review Status: Full (1/1)
The Sky Crawlers © 2008 MH/NI,BWDVYHDYCH