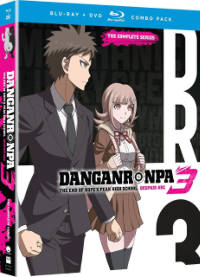 AKA: Side/Future: Danganronpa 3: The End of Hope's Peak Academy, ダンガンロンパ3 –The End of 希望ヶ峰学園– Danganronpa 3 – The End of kibōgamine gakuen
Genre: Mystery drama
Length: Television series, 12 episodes, 24 minutes each
Distributor: Currently licensed by FUNimation.
Content Rating: R (animated blood, dark situations, drug use, attempted suicide, violence, minor fan service)
Related Series: Danganronpa: The Animation, Danganronpa 3: The End of Hope's Peak High School: Side:Despair
Also Recommended: You'd be better off playing the games instead.
Notes: Part of the Danganronpa video game franchise, taking place immediately following the events of the 2012 game Danganronpa 2: Goodbye Despair. This series is considered canon.

Episodes ran concurrently with sister series Danganronpa 3: The End of Hope's Peak High School: Side:Despair. Both are required viewing for completion of the other.
Rating:





Danganronpa 3: The End of Hope's Peak High School: Side:Future
Synopsis
Following the events of the game Danganronpa 2: Goodbye Despair, Makoto Negai, Kyoko Kirigiri, and Aoi Asahina are summoned by the Future Foundation to discuss Makoto's freeing the Remnants of Despair. Once they get there, Makoto is immediately put under arrest by one Kyosuke Munakata, but before they can take him away, everyone in the room is suddenly gassed. When everyone comes to, they find brackets with timers on their wrists. Makoto is then greeted on a TV screen by his familiar nemesis; Monokuma! He announces one last killing game will be broadcasted, noting that the game itself has already begun, as the corpse of one of the Future Foundation members, Chisa Yukizome, falls down from a chandelier above them. He also notes that every eight hours, everyone will fall asleep, and…well, you can guess where this is going. Everyone also has a forbidden action they can't perform at all, or they will die instantly from poison injection via their bracelets. Can Makoto and the others survive the Final Killing Game?
Review
Note: This review is going to contain massive spoilers for the Danganronpa franchise as a whole, as talking about the show is near impossible without spoiling previous games' events, since the anime is built upon them. If you haven't played the games beforehand, head back now before I spoil anything for you.
.
.
.
.
.
.
.
.
.
.
.
.
.
.
.
.
.
.
.
.
.
.
.
.
.
Okay. I gave you a warning.
Danganronpa 3: The End of Hope's Peak High School: Side:Future (which I'll be referring to as Side:Future from the rest of this review onward, since it's such a mouthful to say) is something Danganronpa fans like myself have waited years for. We were finally going to find out what happened to the Remnants of Despair, a plot thread Spike Chunsoft kind of left dangling after they followed up Danganronpa 2 with the shooting midquel Absolute Despair Girls. It also marked the return of Aoi, a character we weren't even sure if she was alive or not anymore, since Danganronpa 2 makes no mention of her being alive. And then you have the game series' head writer Kazutaka Kodaka informing us this was the end of the storyline established in the very first game. So yeah, there was a lot of anticipation and expectations for this new anime series.
I'll be the first to admit it; the series starts off pretty decent. We get to see the old cast again, they're put in a new situation that, while familiar, seems fitting for the franchise, and we get a new, more age-varied cast to work off of. We get more backstory on the events of the games as well, and eventually even wrap up the storyline at the end of Absolute Despair Girls even. Side:Future was written by original game series writer Kazutaka Kodaka, and the opening animation and song do a good job of getting you pumped up for another round of dark mystery with perhaps a dash of humor.
But about two-thirds in I started to care less and less. And by the time the final plot twist reveal came out, and the series' true villain emerged, all I could think of was, "Really? The whiny animator is the villain of the final episodes? The guy who did nothing but bitch and whine for eleven straight episodes nearly is our bad guy? And he gets zero punishment at the end of the day, despite causing pretty much everything happening from the first game onward?" (See my Side:Despair review for more on that.) Bah!
Nothing is more annoying to review for me than an anime that starts off good and then peters out.
Side:Future was directed by Seiji Kishi, the same man who directed the rushed, mediocre 2013 Danganronpa: The Animation, an abridged version of the original 2010 game that felt more like a selection of various scenes animated than a straight-up adaption. I've never been a big fan of his directorial work, mainly due to his inability to tell a cohesive emotion in his more dramatic shows for more than ten minutes. (See the mood whiplash anime Angel Beats! and Kamisama Dolls for more details.) But mood whiplashes aren't nearly a big deal in this show as his other shows, as we come to our second big problem with Side:Future.
There's near zero humor.
Now granted, I'm not expecting a bellyton of laughs in a series about, well, murders, but one of the trademarks of the Danganronpa franchise is its juxtaposition of drama and humor, the latter both really dark and light-hearted. Even Monokuma is reduced to cameos after the first episode, outside of some clip show-esque scenes later on. Even the deaths are boring and stale; all but two of the deaths come from poison injection from the bracelets, and the only two that don't come from it involve bleeding to death instead. The first Danganronpa alone had people being pummeled by baseballs, electrocuted, and hit with a truck while burning on a cross, and the sequel had a guy deep fried like French fries, a girl rocketed into space, and a death involving being crushed by Tetris blocks. The later plot twist reveal - that all these people committed suicide from watching the Monokuma segments from the first video game played backwards, and then stabbing themselves with a knife from said TV - just shows how creatively bankrupt/rushed for time they were with this show.
What little actual humor there is in Side:Future - outside of a few early interactions with Makoto and Aoi - comes from returning character / eternal living joke Yasuhiro Hagakure, who spends a good chunk of the first half of the series either fishing or dodging enemy fire from the outside of the building Makoto and the others are in. But even then, these scenes come across more as filler than comedy, bringing me to my mood whiplash comment on Kishi earlier. Byakuya Togami later comes in, complete with his trademark snark, but it's too little, too late by the time he finally comes into the picture.
Problem number three: most of the new characters introduced are hugely unlikable, underused, or serve little to the plot until right before they die. Chief among the first category is Juzo Sakakura, a violent jackass who threatens both men and women alike with his fists. One of his introductory scenes is him punching Makoto in the gut after handcuffing him. But he is nothing compared to Ruruka Ando, an irritating, selfish coward of a woman who treats everyone but her stoic boyfriend, Sonosuke Izayoi, like crap. Her story arc, which involves her, Izayoi, and her "friend" Seiko Kimura (a shy, withdraw pharmacist whom Ruruka mooched off of for enhancers a good decade or so), was supposed to show a more sympathetic side to her. Ironically, it made her detractors - myself included - hate her all the more, since this is when we learn she has the ability to brainwash people with her candy. (And when we later find out her forbidden action - no one can leave the building - and kills her boyfriend when he attempts to do so later in the series, using his own forbidden action against him to do so, well…you got my least favorite character in the entire franchise right there. Yep. The worst. Period.)
It's no exaggeration to say that the few nice characters in Side:Future literally do next to nothing for the plot. The worst example of this is with Daisaku Bandai, a huge, muscular, black man with the squeaky female voice of Rie Kiugimiya. He has maybe 25 lines of dialogue before his death. Another example is Great Gozu, a huge, hammy man with an ox mask who bites the dust only two episodes in as well. You barely get to learn anything about these two, because why do that when we can instead have scenes of Juzo trying to kill/hurt people by throwing chairs at them, Ruruka bitching and moaning, and Kyosuke talking about how much Makoto sucks for helping the Remnants of Despair instead? Even returning character Aoi adds near nothing to the series, aside from a rather irritating fakeout death in the first fourth of the series.
Aside from Juzo, the only one of the new cast members who does much of anything is Kyosuke, whose main personality trait revolves around wanting to kill Makoto, and the sanity slippage that follows his process of doing so. He believes in justice, and doesn't care if said definition involves killing people, including Makoto himself. (As he puts it, to destroy despair means killing anyone with it. Most of his actual personality is regulated to Side:Despair, a problem I'll refer to later on in the review.) When he isn't doing that, he's chatting with branch leader Kazuo Tengan, who we later learn was the guy who started this whole killing game in the first place in a weird gambit attempt to have one of the other characters come out and save everyone, which I'll get to later in the review.
Problem number four; the series is really boring to look at. The surreal colors of the first Danganronpa game, and the misleading bright colors of its sequel, are replaced with dark grey halls and rooms. And the character designs, while still distinct and nicely varied, don't even look as nice as the ones in Danganronpa: The Animation. Everyone always seems a bit off, and when you compare them side-by-side with original game designer Rui Komatsuzaki's drawings, which brim with life in comparison despite being stills, it's even more noticeable. The few action sequences Side:Future does have do feature a noticeable animation bump, but for the most part it's a grey, dull-looking taking heads show.
But this is all just nitpicking compared to Side:Future's single biggest problem; the thrill is gone now. As in, right now, as you read this. At the time of writing this review, Side:Future (and its sister series Side:Despair) has been finished for over two months. Part of the suspense and mystery of a series like Side:Future is awaiting each week for more clues and answers as to what's going on in the bigger scheme of things. Now that people who hadn't previously seen Side:Future can now just marathon it in one day if they wish, the weekly build-up - and the discussions that came with it - are no longer a thing. You don't even need to watch the series at this point, since wikipedia and the TV Tropes pages on Side:Future reveal so much of the series' plot now.
Not that reading these episodes' synopsis will make much sense to those who've never played the Danganronpa games before, mind you. Side:Future assumes you've played Danganronpa, Danganronpa 2, Absolute Despair Girls, and even read the official novels beforehand. (The latter of which aren't even officially available in English at this time of writing.) And even if you're played the games and read the novels, you still need to watch Side:Despair, since the Future Foundation members also appear in that series as well, with plot threads that make no sense in Side:Future unless you watch that series, too. That is a lot of effort to simply watch one show! (At least you can skip episode 7 if you hadn't played Absolute Despair Girls beforehand, since that's more or less a standalone episode. It doesn't help the other eleven episodes much, though.)
So does Side:Future work at all? Well, sometimes. If you come into it blind or take your time, the cliffhangers are rather intense, and the clues are indeed strategically placed throughout the series. I did like Juzo's final scene in the series, where he snaps Makoto out of committing suicide, and then sacrifices his own life to stop the TV broadcasts every eight hours, as well as remove everyone's bracelets. And while I feel most of the new characters are wasted, I did genuinely find Seiko to be a charming character (well, until she went berserk), and her backstory with Ruruka was one of the few times I felt any emotion whatsoever for one of the new characters. And while it did feel like a filler episode, I did find it amusing how Absolute Despair Girls' villain - Monaca - more or less just says "eh, I give up. Going to space now, okay bye" when Toko and Komaru go up to fight her. (Monaca also had one of my favorite lines from the little I watched of the dub - where she criticizes Makoto for relying too much on girls to help him. Considering how much Kyoko watched over him early on in the first game, and how often Aoi has to move him around due to his forbidden action not allowing him to run in the hallways, I kinda agree with her, honestly.)
But scenes like the above are not the norm for Side:Future. A lot of the time you're just stuck listening to characters talk to each other, while being force-fed plot exposition that, again, makes little sense unless you watch Side:Despair alongside this show. The jarring switch of villains - from Monaca, to the believable, justice-centric Kyousuke, to the old principal Tengan, and then finally to the whiny, wimpy Ryota Mitarai - doesn't help. It's like Kodaka couldn't decide who to make the central villain, so he threw in a bunch of decoy "villains" until we got to our final, true one; a whiny anime fan who wants to combat brainwashing he unintentionally caused years ago with…more brainwashing. It's stupid. And his 15 minutes of villainy only lasts a couple of episodes before the series decides, "Nah, the guy who helped Junko Enoshima kickstart a genocide TOTALLY deserves to go free." And they do so with the final episode finally showing us the Remnants of Despair once again, after teasing us with scenes of Hajime for a few episodes' end scenes beforehand. And with it some much needed humor again, even if it is regulated to the series' tail end. Still, just seeing the Danganronpa 2 cast kicking ass made me feel a little bit better.
Side:Future is, overall, a mess. It starts off good, with some clever clue-hunting and an intriguing (at first) story arc, but as the cast begins to dwindle, so did my patience. It's like Seiji Kishi didn't plan for this to be a full half-season show, and had to jam it with flashbacks and filler dialogue just to keep it going. Six OAVs would have said far more than the twelve it ended up doing. (The amount of mini clip show openings with Monokuma make me suspect this even more.) When it does work, it works, but by the last quarter I wasn't interested in the story anymore. I just wanted it to end.
Oh, and one last thing; Kyoko's fake-out death near the finale was inane as well (even the official FUNimation dub mocked it, with Kyoko herself saying, "Yeah, pretty sure I died."). Shame on you for repeating the same fake-out death scenario twice, Kodaka.
While I initially enjoyed watching Side:Future, by around episode 9 I just wanted it to end. It reads more like a darkfic Danganronpa story than a genuine continuation of the video games before it, with near none of the vibrant intrigue, imagination, or humor the series is known for, with a new group of forgettable characters to go along with it. Add a star if you're watching the English dub, whose cast brings back the dry humor of the original games the Japanese voice cast lack. — Tim Jones
Recommended Audience: For the first time in Danganronpa, the blood is now red instead of pink, showing you how dark this series is. There is also some drug use from Seiko, who injects herself at one point in the series. Oh, and Makoto nearly commits suicide at one point in a rather intense, dark scene. Viewer direction advised.
---

Version(s) Viewed: FUNimation.com stream, Japanese with English subtitles
Review Status: Full (12/12)
Danganronpa 3: The End of Hope's Peak High School: Side:Future © 2016 Spike Chunsoft Co.,Ltd. / Kibou~ke-hou gakuen dai 3 eizou-bu