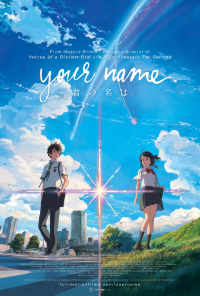 AKA: 君の名は。
Genre: Romantic comedy - drama with supernatural elements
Length: Movie, 107 minutes
Distributor: Currently licensed by FUNimation, available streaming on Crunchyroll..
Content Rating: PG (thematic elements, suggestive content, brief language, and smoking)
Related Series: N/A
Also Recommended: The Girl Who Leapt Through Time, The Place Promised in Our Early Days, Whispers of the Heart
Notes: Based on the novel of the same name by Makoto Shinkai, published just prior to the film's premiere in 2016. As of 2017, this has become the highest grossing anime film of all time worldwide, surpassing Spirited Away and Howl's Moving Castle, and ranks in the top five highest-grossing films in Japanese history, as well as the top ten highest-grossing animated films of all time globally.

Blink and you'll miss it, but the lead character from Garden of Words has a cameo appearance in this film!
Rating:





Your Name.
Synopsis
Mitsuha Miyamizu is a high school girl living in the remote (fictional) town of Itomori in the Hida region of northern Gifu Prefecture, and she wants nothing more than to live a different life, that of a popular Tokyo high school boy. Taki Tachibana is a high school boy living in Tokyo, who lately has been having strange dreams of living someone else's life ... and it turns out to be true, as Mitsuha and Taki have somehow switched bodies. Body-swapping at odd intervals, they learn to navigate each other's daily life, until one day, a certain event sets them on a collision course with fate itself.
Review
Watch this film.
Done.
...
Okay, I know no one can actually get away with that, but Your Name. feels like a fitting culmination of Makoto Shinkai's career up to this point, from its glorious inception (Voices of a Distant Star) through some comparative letdowns (the unsatisfying ending of Five Centimeters per Second, the general incompleteness of The Garden of Words). The kinds of stories that Shinkai has told involve the connection between people in the face of isolation and the vastness of space and time, and in very few places has that theme been told as well as here.
In East Asian folklore, it is said that people who are destined to be together are tied together by the gods with an invisible red cord (in China, by the ankles; in Japan, by the pinky finger), and this metaphor is central to the storytelling of Your Name.; Mitsuha's rural upbringing involves the making of traditional braided cords (kumihimo) as part of her training as a miko (shrine maiden), and this imagery returns time and again through the course of the film, returning at one point to its most primal, natural form (that of the umbilical cord), in one of the very best and most well-crafted scenes I've seen in decades of anime viewing.
The contrast between Mitsuha's seemingly unchanging rural life in Itomori and Taki's hectic urban life in Tokyo seems even greater when they are forced to live *as* each other, with predictably comedic results (Mitsuha-as-Taki botching basic things like personal pronouns) that have surprising, and ultimately life-changing ramifications in their personal lives, even without the huge reveal in the midway point of the movie, where this film very suddenly changes from a rom-com to an emotionally involving drama that had me rooting, hard, for these two to make it, especially given the missed opportunities we have seen in Shinkai's previous works - the knowledge of which has the effect of leaving you guessing more than you'd think for what should otherwise be a standard coming-of-age film.
As we have grown to expect in Shinkai's work, the animation and art are spectacular -- scenes of verdant natural beauty and urban sprawl are treated with the same amount of hyper-realistic detail, nearly to the point of in-world navigability (though Itomori doesn't actually exist, it is clearly inspired by real-life Hida, Gifu and Lake Suwa, Nagano). This is paired with excellent music from indie-alt rock band Radwimps (who have been popular since about 2006), which perfectly captures the emotional feel of the film at the right times.
The voice acting is uniformly excellent in Japanese: one of my favorite parts of this film is listening to the lead voice actors (Ryunosuke Kamiki (Kenji, Summer Wars) and Mone Kamishiraishi (probably best known as the lead from the live-action film Lady Maiko)) basically act as the other character (Mitsuha-as-Taki / Taki-as-Mitsuha) which drives a lot of the comedy - and also the warmth - of the film, as everyone else takes these sudden character shifts in stride. As of this writing, I haven't had the opportunity to screen the English dub.
If anything, the only miss here is lingering a *bit* too long on a particularly cringey recurring gag (Taki's initial reaction to being in Mitsuha's body - basically self-boob-grabbing) though little sister Yotsuha's reactions are increasing quantities of hilarious and largely make up for what is really the only jarring note in an otherwise great film.
Really, here's the bottom line: Your Name. is a visually arresting, emotionally rewarding roller-coaster, and comes with my highest recommendation.
Fully deserving of its accolades, Your Name. is recommended viewing for anime fans of all stripes. — Carlos Ross
Recommended Audience: Apart from the recurring, typically adolescent response of a teenage boy finding himself occupying a teenage girl's body (suggestive self-glomping ensues), and a couple of intense scenes involving natural disasters, one character seen smoking, and mild alcohol use (albeit plot-and-culture important), there isn't too much objectionable material in this film, and it should be safe for most audiences, though the target audience is clearly teens and above.
---

Version(s) Viewed: Theatrical release, Japanese with English subtitles.
Review Status: Full (1/1)
Your Name. © 2016 Your Name. Production Committee