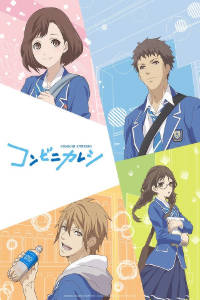 AKA: コンビニカレシ ; Konbini Kareshi
Genre: Romantic Drama
Length: Television series, 12 episodes, 24 minutes each
Distributor: Currently licensed by FUNimation. Also streaming on Crunchyroll.
Content Rating: PG-13 (Mature themes.)
Related Series: N/A
Also Recommended: Boys Be, My Love Story!, Lovely Complex
Notes: Based on light novel by Tsukuba, published by Kadokawa.
Rating:





Convenience Store Boyfriends
Synopsis
Haruki Mishima is a high school student with a frequent, not always welcome, houseguest: friend (kind of) and fellow student Towa Honda. Haruki also has a secret crush on a girl named Miharu Mashiki, who he remembers giving him a book when they were children (he's still got it.) Honda, meanwhile, is rather aggressively pursuing a girl named Mami Mihashi. (I will note here the show's annoying obsession with the letter M, particularly in the girls' names.) Will these guys finally win over these girls?
Review
This show has two things I really liked. One is its character art, which is attractive and finely-detailed (Mami's braids in particular.) The other is the peppy rock song that opens it; titled "Stand Up Now", it honestly put me in a cheerful mood each time I heard it.
So the show looks great. But as with many products in convenience stores, the contents inside the flashy packaging are somewhat disappointing.
The lion's share of the show deals with Honda's efforts to virtually strongarm Mami into going out with him. He's called "pushy" (and Mami has a vulgar epithet which is also apt), and this is an understatement. He's volunteered to assist her (she's the class rep) to give himself an opening with her, and he's relentless, first offering what he apparently imagines as compliments, then constantly trying to pressure her into going on dates. Honda also has some other personal issues, mainly involving his stepfather, but we may never be able to tell if his feelings have some objective basis, or if this is just some Oedipal thing of his. In any case, Honda comes across as a psychologically "needy" sort of person.
And Mami, the object of the obsession? I've said before that I've found Rie Kugimiya a more versatile VA than she's sometimes given credit for- in addition to her trademark tsunderes, she's played coolly sarcastic characters (Burn-Up Scramble and Gakuen Alice), bratty children (Shingu: Secret of the Stellar Wars), an ambiguously gendered alien head (elDLIVE) and, yes, characters requiring some real emotional range (Maria Watches Over Us and Expelled From Paradise.) But she plays Mami listlessly, as if she can't figure out how to bring this character to life, and I can't blame her- I don't know how such a character should be played either. Mami is a woman who from the very start is on the brink of complete capitulation to a persistent male, only capable of passive, token resistance: at first she just tries avoiding Honda and not returning his calls; she does eventually request an "intervention" from Honda's friend Haruki. But Honda just isn't the sort of guy who'll quit- EVER- and so you can imagine how effective THAT is.
The problem is that in the show Honda's overbearing attempts to win Mami are stunningly successful compared to Haruki's efforts (or, more precisely, lack of same) to woo Miharu. Haruki is just as infuriating to the viewer as Honda, in precisely the opposite way; he normally says he doesn't want to "bother" her, and so doesn't even try. Mami and Miharu are close friends, and so the "intervention" is the first major opportunity Haruki gets to talk with Miharu (since she's a party there as well.) Later Honda will wear down Mami to the point that she goes on dates with him, but she insists on it being double dates, taking Miharu along as support (and we also assume to help keep Honda in line), and since it would be weird for Honda to be going with two girls, Honda's friend Haruki seems to have been invited as a kind of default companion for Miharu. Well, at least it DOES give Haruki and Miharu some opportunity to talk, but it takes him SIX MONTHS (each episode chronicles events in sequential months) to even mention the book to her. His reticence is especially infuriating given that (1) she seems to really be interested in him (she lets things slip), and (2) she might have an expiration date. (There's a late-in-the-show "twist" that really shouldn't have made much difference at all.)
There's a supporting cast that doesn't really DO much, though there's one episode involving the lame-duck Class President, named Mikado Nakajima, and a girl who calls him "Big Brother" even though he's clearly NOT actually her brother; she has the marvelous name Waka Kisaki. It's kind of an orphan storyline though; we don't get these two's past in any detail, nor will we get their future beyond that episode's end. I would guess this was done in greater depth in the light novel.
It's a going-through-the-motions romantic drama with two male leads who BOTH make you want to beat some sense into them with a baseball bat, and two girls without much fire or spirit in their souls at all. I'll go 3 stars rather than 2 here, though, mainly because I love the opening song THAT much. — Allen Moody
Recommended Audience: For the life of me, I can't recall any major fanservice in this show. Mami's epithet seems to be about as vulgar as it gets. We'll say "mature themes" and go for 14+.
---

Version(s) Viewed: Streaming on Crunchyroll
Review Status: Full (12/12)
Convenience Store Boyfriends © 2017 Pierrot (Studio)