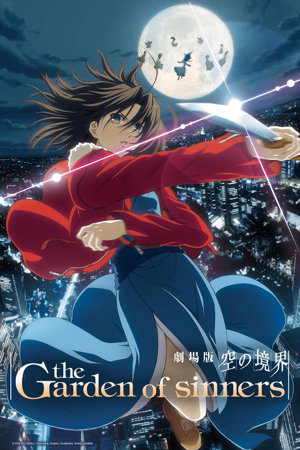 AKA: 空の境界 ; Kara no Kyokai; Rakkyo
Genre: Horror Fantasy/Action
Length: OAV series, 10 episodes, 30 minutes minutes each
Distributor: Currently licensed by Aniplex of America.
Content Rating: 16+ (Violence, deaths, mature situations, sexual overtones.)
Related Series: N/A
Also Recommended: Rin: Daughters of Mnemosyne, Boogiepop Phantom
Notes: Based on light novel series by Kinoko Nasu and Takashi Takeuchi, published by Kodansha.
Rating:





The Garden of Sinners
Synopsis
Shiki Ryougi has a lot going on in her head- in addition to three personalities (one or two of which are murderous), after two years in a coma she ALSO acquires a new psychic power, just as Stephen King might have had it; in her case it's "Mystic Eyes of Death Perception", which allow her to see, touch, and even KILL spirits (however THAT works; she's an absolute demon with anything pointy.) Employed by one Touko Aozaki, a mage of murky metaphysics, she takes on various spirit enemies, and their human enablers, with occasional emotional support from a "normal" guy named Mikiya Kokutou.
Review
Honestly, I wonder if working on this show was as weird an experience as watching it. A "series" of ten OVAs with running times ranging from about half an hour to two hours, it's another exercise in stylish, cryptic horror fantasy, thematically a kind of long-lost sister to Rin: Daughters of Mnemosyne and cousin to Boogiepop Phantom, but THIS one takes "cryptic" to the point of obfuscation, and KEEPS it there. The theory seems to be that if it's incomprehensible, it can pass itself off as being profound. I have some problems with that theory. But at least I could make it through the show, though with its total run time of over 11 hours I don't recommend it for someone less patient than I am. It's NOT entirely bad, but several bright points, and even a few brilliant ones, can still lose their luster if they're immersed in a sea of dark confusion.
First, this is not presented in chronological order. The show's events mostly span the years 1995 to 1999, and title cards at the beginning and end of each OVA (and in the episode summaries on Crunchyroll) give the month and year, so you could almost watch the thing in time sequence, with some work- but it really wouldn't be worth the trouble, and there would STILL be some parts that would be "anachronical", as the Wiki article calls it. I'll spare you some grief with some slight spoilage: the chief villain is confronted in #5; a legacy of his gets the same in #7; and #8 finishes Shiki (and Mikiya's) story with what I thought a pointless coda. Numbers 9 and 10 are flashbacks to various points in the timeline, EXCEPT that one of them ALSO contains a flash forward of about a decade beyond the events in #8; while #5 is padded with repeated views of the SAME events with only minor amounts of new information added each time; I was having flashbacks to Haruhi's Endless Eight here, a thing which should NEVER be! (Speaking of padding, the show has quite a bit of black screen time during (and between) segments, and plenty 'o pretentious ponderings by Touko- I'll say a bit more about HER later- which all seemed designed to stretch this out without any real value-added.)
Now some shows abandon strict chronological order for quite logical reasons. The movie Pulp Fiction did it so that things "ended" on an emotionally satisfying note. The SERIES Shiki (the vampire show) did it to keep related story elements and individual characters' stories, and particular plotlines, together. But the only purpose I could think of for Garden doing this was, again, an attempt to seem more "profound" by being hard to follow.
And also as noted earlier, if this IS the purpose, Touko's musings fit right in. Touko's a "mage" who apparently can replace human limbs with (somehow) functional "doll" equivalents (or so it's said; don't expect to actually see the process.) Touko speaks in "metaphysics babble"; sometimes it's just dark arcane asides, but BEWARE when she says "in short", because that's ALWAYS a lie, because it never IS. Her long-winded "explanations" not only DON'T explain, but tend to leave you more confused than you already were. At one point she seems to knowingly abandon Shiki (and Mikiya) to an enemy, in a situation that proved impossible for both of the protagonists to emerge unscathed from. (At another point I was weirdly reminded of an old Gilligan's Island episode, where Gilligan, in one of his dreams, is a secret agent who's seemingly assassinated, but then steps into the room, declaring "I took the standard precaution of sending in my robot double first!" Sound silly? Something just like this HAPPENS in Garden!)
Now Touko goes on (ad infinitum) about things like the Vortex of Radix and the Akashic Records (perhaps the latter can be found in the Forbidden Books section of Lovecraft's Miskatonic University, along with the Pnakotic Manuscripts and the Necronomicon), but to the extent that I could figure out any of the show's metaphysics, there's this: people have a "primal nature" that's based in their cells/body itself, which actually precedes the soul; the show posits that the soul is created later, by the mind. (This kind of reminded me more of Jung's concepts than Eastern mysticism per se, but I'm no expert on this sort of thing.) Some people's "primal nature" can not only overwhelm their minds/souls, it can give them immense natural, and even SUPERnatural, power- Shiki herself is like this, as are many of her opponents.
I may have hated Touko, but I DIDN'T hate Shiki. In fact, in her "Mystic-Eyed" Berserker Mode, she has the same hyperkinetic, gravity-defying moves beloved of characters in the more outrageous martial arts movies, but when she's NOT in this mode she's somewhat timid and socially withdrawn, spending most of her time in bed in her apartment, wrapped in her bedsheets. (When she DOES go out, she's always dressed in a kimono, with a jacket over it.)
And this brings us to Mikiya and her, and a thing I really DID love about this show, Mikiya and Shiki's relationship. I found its casual and understated nature MUCH more interesting (and enjoyable!) than any of Touko's pretentious ramblings were. Mikiya's odd "courtship" of Shiki started with his camping out in front of her house waiting for her, and before you say "stalker" it should be mentioned that at THIS point Shiki was widely rumored to be a murderer, and Mikiya was well aware of the rumors, which puts a little different spin on who had reason to feel threatened. During most of the show, Mikiya is the guy who comes by her apartment and brings her food or other necessities; talks to her a while; and occasionally gets asked by her to spend the night. (There's only one bed.) Later she asks him for a key for HIS place. And that's as explicit as the show ever gets about their relationship. It's a prime example of the virtue of "less is more", and seems an unusually mature way to handle this sort of material. For HER part Shiki sees Mikiya as her tether to the normal world, since he's a "normal" guy (though it turns out he's MUCH more durable than most "normal" guys are.)
The show's musical score can also be pretty wonderful, especially the lush romantic ballads apparently designed to accompany the deep (if subtle) Shiki/Mikiya pairing.
I also loved the dreamy "star trails" opening of #6, though not so much its protagonist, Mikiya's younger sister Azaka. Azaka is a full-blown bro-con who is intensely jealous of Shiki and takes a job as an "apprentice mage" with Touko just to try to keep Shiki and Mikiya apart. That Azaka doesn't have her act together even as well as a woman with multiple personalities and a killer "primal nature" doesn't speak well of her. This OVA by itself showcases the contrast in the show, between the craftsmanship of its trappings (the occasional gorgeous art and beautiful music), versus its fatal weakness, its cluttered and incoherent plots.
And yet once again I have to give credit where credit's due: there's a scene late in the show (though earlier in the actual chronology!) where Mikiya's advising a clairvoyant girl, that's really thoughtful and charming. ALSO charming are the faux-stop-motion "Public Service Announcements" at the beginning of each OVA; it took Grampa a while to realize that the characters in these were the SAME characters as in the rest of the show! (Except for that catgirl- I don't remember a catgirl...)
So I've been doing quite a bit of bouncing back and forth between the virtues of this show versus its vices, and that's STILL not QUITE over; I can't resist mentioning one more vice: some of the "sinners" seemed to me to get off a bit too easy. But bottom line? If you're as patient as I am, maybe 3 stars; but I think I might be a little unusual in that respect. — Allen Moody
Recommended Audience: This show has the most explicit depiction of physical abuse of a spouse I've ever seen, as well as stabbings, dismemberments, and other gruesome mayhem. I don't remember nudity, but the Mikiya/Shiki relationship has "adult" overtones (even if we never SEE what that implies.) The show also has one of the most disgusting "foreplay" scenes I've ever seen. (No, Mikiya's NOT involved!) Righstuf rates 16+.
---

Version(s) Viewed: Streaming on Crunchyroll.
Review Status: Full (10/10)
The Garden of Sinners © 2007 Ufotable