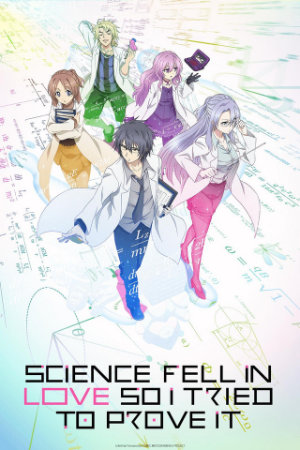 AKA: 理系が恋に落ちたので証明してみた。; Rikei ga Koi ni Ochita no de Shomei Shite Mita
Genre: Comedy/Romance
Length: Television series, 12 episodes, 24 minutes each
Distributor: Currently available streaming on Crunchyroll.
Content Rating: TV-14 (Fanservice, mild violence.)
Related Series: A live-action film and TV drama
Also Recommended: Wotakoi: Love Is Hard For Otaku
Notes: Based on manga by Alifred Yamamoto, published online at Flex Comix's Comic Meteor website

Copyright: Alifred Yamamoto/Comic Meteor/Rikekoi Project
Rating:





Science Fell In Love, So I Tried To Prove It - Season 1
Synopsis

"Science Type" Ayano Himuro tells fellow "Science Type" Shinya Yukimura that she thinks she's in love with him, so both set out to find some objective evidence that they're in love- to the chagrin of their fellow labmates, who get dragged into this farcical project.
Review
As a "Science Type" myself, I felt an obligation to see how much of a slam this show was against my kind. And, indeed, nobody else in this lab seems as obsessive about "science", or as dedicated to a STEM career, as our two chief protagonists- all the others, according to the bios provided, are ultimately seeking other sorts of livelihoods, even Prof. Ikeda, who runs the lab. It should be pointed out that Ayano and Shinya are really much more "Math Types" than "Science Types" per se. (Ayano's ambition is to win the Fields Medal, which is the math equivalent of a Nobel.)
Ayano and Shinya's method of objectively "proving" they're in love consists of finding some sort of measurable parameter unique to being in love with someone, so they're quantitatively analyzing EVERYTHING, from heart rates to spit, and endlessly critiquing the suitability of all these things as a measure. Everyone in the lab gets pretty tired of it, especially Kotonoha Kanade, who's the most "normal" person here (in other words, neither science nerd nor otaku; yes, there are some of THOSE here too.) When Ayano and Shinya are talking about the things normally done in dating and romance, Kanade's happy for them; but when they start insisting on physiological measurements of those things, or trying to find mathematical formulas to express romantic moods quantitatively, Kanade gets understandably exasperated with them. Even "Explaining Bear" Rikekuma gets bored with the whole thing. And yes, with the exception of a few great sight gags, I did find the middle of the show dragged a bit. But really I was most distressed that one of Ayano's most interesting features- a ponytail that twitches, like a cat's tail, according to her mood- simply gets forgotten by the show after a while. I think it stopped moving shortly after someone called attention to it; must be one of those quantum things that are influenced by being observed.
So here's the cast:
First, a little more about Kanade. She, at least, is working on a legitimate mathematical issue, the so-called "traveling salesman" problem, and how to derive an optimized path in it, and she DOES sort of cleverly tie this into her experience with Ayano's and Shinya's "research", no matter how exasperated she is by those two most of the time. (Shinya's apparently her PhD supervisor, and he seems a brutal taskmaster, but he really DOES have her best interest at heart. I've run into doctoral candidates stuck with supervisors who wouldn't even find time to examine their work; every one of them would have been much happier with a Shinya sort who meticulously evaluated their work, and drilled them on the proper presentation of it. Well, except for his one major faux pas, but he DOES get punished for that. Quickly. TWICE.)
I had NO idea why Kosuke Inukai was in the lab at all; he complains about all the mathematical formulas he doesn't understand, and only seems to care about a dating sim (and its leading female character.) Prof. Ikeda seems willing to put up with a LOT of nonsense from his lab staff (especially from Kosuke), and in the real world he'd quickly be drummed out of academia for the (lack of) quality of some of his group's presentations (again, especially Kosuke's.) I found this even sillier than the leads' obsession with putting romance on a quantitative basis.
Ena Ibarada is another of those diminutive sarcastic girls so common in anime. (I don't recall running into any of these in actual labs, though.) She's not physically violent, but she loves to psychologically torment people, ESPECIALLY Kosuke, who was her childhood friend. Other than occasionally serving as appointment secretary for Prof. Ikeda, she currently doesn't seem to serve ANY purpose, and is usually found sprawled on a couch, playing video games.
Whether Ayano and Shinya discover true love, they certainly discover jealousy; Ayano's particularly prone to it. They also bicker with each other, and insult each other, with great frequency, which probably IS the most reliable objective indicator of True Love in the anime world, come to think of it.
The show did have a few moments I found inspired. Shinya's application of scientific principles to show that a supposed "accident" was no such thing stood out for me, as did a telling of the traditional Japanese folktale The Crane Wife, which takes a hilariously bizarre turn. At one point our cast is working on a thought experiment on how Ayano and Shinya might maximize skin contact, with some startling (and side-splittingly funny) visuals.
Look, we "Science Types" are almost never THIS obsessive; we don't regard EVERYTHING as a nail that must be dealt with using the hammer of Science. Speaking for myself, I can be pretty intense at work, but I don't bring it home and bore my wife (who is NOT a "Science Type") with it. At least some of us are almost normal outside the workplace. And even cuddly. I will grant that we ARE, alas, often sarcastic. But this show does have its moments. Though if Ayano and Shinya continue this line of research, I'm afraid they'll only end up repeating Dr. Kinsey's work. — Allen Moody
Recommended Audience: Some fanservice and sexual innuendo, a couple of fistfights. I'll go about TV-14 here.
---

Version(s) Viewed: Crunchyroll video stream
Review Status: Full (12/12)
Science Fell In Love, So I Tried To Prove It - Season 1 © 2020 Zero-G