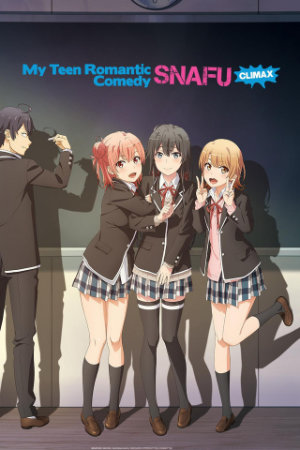 AKA: はり俺の青春ラブコメはまちがっている。; My Youth Romantic Comedy Is Wrong As I Expected
Genre: Comedy/Romance/Drama
Length: Television series, 12 episodes, 25 minutes each
Distributor: Currently licensed by Sentai Filmworks, and also available streaming on Crunchyroll.
Content Rating: TV-14 (Mature situations.)
Related Series: Seasons One and Two; also an OVA in 2013
Also Recommended: First and Second Seasons; Tsuredure Children
Notes: Based on manga by Wataru Watari, published by Shogakukan

Copyright: 2020 Wataru Watari/Shogakukan/Oregairu 3
Rating:





My Teen Romantic Comedy SNAFU Climax
Synopsis
The Service Club (Hachiman Hikigaya, Yukino Yukinoshita, and Yui Yuigahama) is losing its faculty advisor, Shizuka Hiratsuka, to retirement, and dissolving- and our three principals now have to decide what to do about each other.
Review
Season 3 continues the progression of our characters we noted in the "bridge" season (Season 2), and finally brings us to the inevitable life choices that may leave some of our cast hurt. Many shows with two (or more!) possible pairings for their male lead refuse to commit, out of a desire to keep the franchise going forever and/or to avoid offending the fans, but SNAFU DOES give us a (more or less) final conclusion, a fact I find admirable- even though I was VERY much a partisan of the one who LOST.
SNAFU's little "triangle" has always been a bit unusual. Hachiman himself identifies the relationship as a triangle, but Yukino's pain-in-the-rear older sister Haruno more prosaically diagnoses the relationship of the three as "co-dependency". And honestly, BOTH have a point; for Yui and Yukino are nearly as close to each other as either is to Hachiman, and if Hachiman elects a romantic relationship with either one, two close relationships may get sundered rather than just one.
The show continues to approach all this (and much else) rather obliquely, though- getting someone to simply SAY "I love you" in this show is nearly as difficult as pulling teeth- and the question of who will be in, and who will be out, gets sublimated into side issues, most particularly into a project that consumes much of this season, and which I'll talk about a little later. For most of the season, everyone carefully tiptoes around the "romance", but when the confessions ARE finally made, you'll recognize them, even if they're not (at least at first) all that simple. I've come to think of this show as the Merchant/Ivory of Japanese school comedies- a show trying for subtlety and sophistication in its relationships (at least in Seasons 2 and 3), with Hachiman the sardonic nucleus of the show. If you put humor on a scale with, say, the Three Stooges on one end, and George Bernard Shaw on the other, SNAFU has been aiming for the Shaw end of the spectrum.
The first person in this season who gets their heart a little broken is Hachiman himself. Little Sis Komachi has always gently chided him for alleged "sis-con" tendencies as part of their perpetual banter, but the truth is that she has been the only person who really knew him well enough to advise him on how to act like a properly socialized human being; but in the first episode of this season it becomes clear that Komachi is maturing into a young woman with her own life, and may not be as readily available to advise him in the future as she has been.
Yukino continues to morph into someone very different from how she was when we first met her in Season One. Oh, she's as reserved as ever, but she's moved from her earlier dour sarcasm into a place of actual shyness and vulnerability, as she tries to chart her OWN course in life, sometimes against the wishes of Haruno and their domineering mother. Her mom shows up, representing the parental opposition to a prom- an event which Yukino herself becomes involved in planning. Hachiman of course has his own weirdly contrived plan to overcome the opposition. ("He always takes a roundabout way to his goals that really makes no sense to anyone else".) I could think of several more forthright strategies that might have overcome the resistance; for example, if some of the parents were objecting because they thought some "debauchery" might take place, they could have been invited to participate as chaperones for the event. But Hachiman has always been confident in his strategies- even though his track record's a bit mixed. (Of what he does here, he thinks, "I'm pretty sure that I'm the only person in the world who can use this very appalling and despicable tactic.")
Season 3 brings back pretty much EVERYBODY from the previous two seasons: Hayama (there's a hint that he and Haruno were a thing at one point); Iroha (who's as manipulative as ever, but the position Hachiman helped her land seems to have matured her quite a bit); Ebina (the yaoi fan); Zaimokuza (the otaku); and Kawasaki (who has some really nice moments caring for her younger siblings.) I thought that Ms. Hiratsuka was a bit TOO chummy with Hachiman- he's her STUDENT, after all- though her more relaxed attitude might be somewhat excused by the fact that she's leaving the teaching profession. (And NO, we're NOT talking Why The Hell Are You Here, Teacher? here. Not even CLOSE.) We also meet Yui's mom, who's arguably even more attractive than her daughter, and a little flirtatious as well. Quite a bit different from Yukino's mom, who's the prototypical prim-and-proper wealthy matriarch in traditional Japanese dress.
One reader said they would have gone five stars on Second Season. I'm finally willing to do so on THIS season- again, very much despite the fact that my candidate didn't "win". I guess the person not chosen can console herself with the knowledge that being Hachiman's love interest would have some definite downsides in the long run. And if this IS the Merchant/Ivory of school comedies, maybe it will even find a civilized, and well-mannered, way for even its "losers" to be happy. — Allen Moody
Recommended Audience: Crunchyroll calls this TV-14. I guess for Mature Situations, but it's certainly not for fanservice- this is one of the few shows I can recall where girls are cavorting on a beach fully clothed.
---

Version(s) Viewed: Streaming on Crunchyroll.
Review Status: Full (12/12)
My Teen Romantic Comedy SNAFU Climax © 2020 FEEL