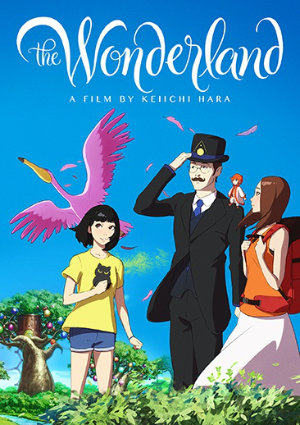 AKA: バースデー・ワンダーランド
Genre: Fantasy
Length: Movie, 116 minutes
Distributor: Currently licensed by Shout Factory.
Content Rating: PG-13 (Mild violence.)
Related Series: N/A
Also Recommended: Napping Princess
Notes: Based on "Chika Shitsu Kara no Fushigi na Tabi" ("A Strange Journey From The Basement"), written by Sachiko Kashiwaba, published by Kodansha. OVA directed by Keichi Hara.
Rating:





The Wonderland
Synopsis
Teenager Akane is sent by her mom on an errand to her Aunt Chii, who runs a curio shop; but while there, a man calling himself Hippocrates emerges from the basement of Chii's shop and tells Akane that Akane is the Goddess of the Green Wind and must come with him to save his world.
Review
It ain't Alice,but THIS Wonderland is frequently interesting nevertheless. We will have to simply call it The Wonderland, since if the place "Hippocrates" takes her to has any other name, I missed it. (Some towns, and particular places, in it ARE named.)
Of "Hippocrates" himself, we'll note that he doesn't dress in the robes you might expect the Greek scholar to wear, nor even in the wardrobe of a pre-Renaissance experimenter that you'd expect from his stated profession of alchemy. He LOOKS like a Victorian-era businessman, complete with black suit, moustache, and top hat. He's the guide for Akane and Chii- until he becomes useless through much of the latter part of their adventure- and his solemn, straight-arrow manner attracts considerable sarcasm from Chii.
If there was a character here I really loved, it's Chii. As for Akane, the problem with many shows is that they feel the need to portray their main lead's personality as nearly colorless- it seems to be part of the "stalwart" package that goes with main leads, even though Akane is not even that stalwart at first, and has to be magicked a little to get her going. But Chii more than makes up for this. She's our irreverent free spirit, whose moods vary from flippant insolence (the prim, proper, and often pompous Hippocrates is her usual target); through casual maintenance of routine in the midst of weirdness; to childlike wonder. (The latter is perfectly appropriate for someone running a curio shop.) The characters' visual designs are by an artist named Ilya Kuvshinov, and are both very unusual for anime AND quite attractive- ESPECIALLY our ladies. Chii and Akane are more big sister/ little sister than aunt/niece throughout their journey. There's a delicious moment when both ladies are in imminent peril, and Chii is trying to distract Akane to keep her from succumbing to absolute panic. (This was my favorite scene in the movie, even though they DID sort of deliberately put themselves in this spot.)
In fact, their journey has several great moments. I seem to be a bit contrarian in relation to other critics in regards to this show; for others have criticized this show's use of these set pieces, while for ME they were my main source of enjoyment. Another one: Akane, at one point, faces "Trial By Cat" because she punished a cat for, well, doing what cats DO. (This segment did, however, kind of contradict a general impression the show's been trying to give; if there's continuity in character, events, and knowledge of same between our world and The Wonderland, then that would seem to indicate The Wonderland is a "dream" of Akane's rather than a "real" place- which is contradicted by the fact that at least one other person in our cast from "our" world has previously been there. You might have to read the material accompanying the DVD/Blu-Ray to know who that is; I'm not sure if it's that clear from the show itself.)
The Wonderland seems to have a variety of different landscapes over what seems a relatively small region- at least one accessible in a day or two by car; COAL-POWERED car. (The Wonderland has about an Early 20th Century level of technology, though petroleum never seems to have been discovered. Despite the extensive use of coal, The Wonderland does NOT look like London or Pittsburgh did In The Day. Clean air, and clean buildings, under these circumstances would seem only credible in a fantasy kingdom, though the show DOES try to excuse this by a character's observing that The Wonderland was never as industrialized as OUR world.)
In any case, I found the journey WAY more intriguing and fun than what Akane had to do when she actually GOT there, even though she might finally find her own courage- AND even though the show has a final surprise concerning the true identity of its chief villain, the Darth Vader-like Zan-Gu. The closing chapters of the show seemed more conventional storybook compared to some of those marvelous "set pieces". (The show has a great sense of humor, which ALSO helps.)
Some miscellaneous things, from my notes:
- What's the deal with the girl with glasses at the beginning of the show, who's getting ostracized because she wasn't wearing the approved Accessory of the Day? I think I must have missed something...
- For someone who seems to have a lot of travel expenses, Chii is awfully casual about collecting payment from her sales.
-It would be kind of neat if magical worlds really COULD be accessed from inside one's house, such as through the wardrobe (C.S. Lewis); from the bathtub (Girls Bravo); and now though the basement. Who would need to go out to find adventures if you could find them in the house?
The Wiki article mentions some critics giving this three out of five stars. While I couldn't quite go five here (because I felt it fell into cliché late in the proceedings), I certainly thought it was better than average. As I said, I kind of thought that other critics were labeling things as faults that I myself found to be virtues. I'm sure the fact that I fell in love with Chii has NOTHING to do with my final rating. — Allen Moody
Recommended Audience: Some violence and peril; no fanservice. (I believe the original work is a children's book.) Rightstuf suggests 13+, so we'll say PG-13.
---

Version(s) Viewed: R1 DVD
Review Status: Full (1/1)
The Wonderland © 2019 Fuji Television Network/Dentsu/Aniplex/Warner Brothers Japan