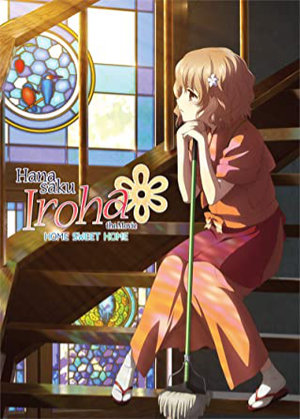 AKA: 花咲くいろは HOME SWEET HOME
Genre: Comedy/Drama
Length: Movie, 67 minutes
Distributor: Currently licensed by Nippon Ichi Software America, for streaming by Crunchyroll and Amazon Prime.
Content Rating: PG-13 (Domestic violence, mild fanservice.)
Related Series: Original Series (26 episodes)
Also Recommended: Hanasaku Iroha series; Okko's Inn
Notes: Written by Mari Okada.

Original series reviewed on THEM by Melissa Sternenberg
Rating:





Hanasaku Iroha The Movie: Home Sweet Home
Synopsis
While working at Kissuiso, Ohana finds a diary written by "Beans" (Denboku Sukegawa, the long-time caretaker), that contains information about Ohana's mother, Satsuki, which helps her understand her mother better.
Review
WARNING: CONTAINS SOME SPOILERS FOR THE ORIGINAL SERIES
It's been a while since I watched Hanasaku Iroha, and I've not enough desire to completely watch the series again, but this OVA gives just about everybody in the cast- and their characteristic foibles- some screen time, so it's a good short introduction to the show's cast and its general setup. This ended up bringing back to my mind some quibbles I had with the characters, and the way things played out, the first time around. But there's some interesting, if extremely stormy, drama between Sui ("Madame Manager" of Kissuiso) and daughter Satsuki that allows us, with some interpolation (it's not ALL here), to chart the emotional course of Satsuki from rebellious teenager; through (apparently) halcyon days with Ayato Matsumae (a photographer, and Ohana's father); to her current status of having a career, yes, but with no lasting, steady personal relationships.
Let's start with the rest of the cast. Ohana has usually been exuberant, and, as Melissa noted in her review, meddling; she also has a tendency to be tactless here. On the other hand, this time around we see her sometimes in a brooding, melancholy frame of mind. Her major personal efforts in the OVA are directed toward helping her co-worker and friend Nako Oshimizu, who's been entrusted by absentee parents to take care of her younger siblings, but is about to be overwhelmed. We have another friend of Ohana's- and scion of a rival spa- Yuina Wakura, who's doing some training at Kissuiso, but seems to have an awfully short attention span. I was basically OK with these characters and these sub-plots. (Well, I admit, Yuina is a bit annoying.)
But we also have Taro Jimaru, long-term guest at the inn and writer of erotic novels (featuring the inn's personnel), whose character design I always found WAY too close to that of Enishi Shijima, "Madame Manager's" son. We also have Tomoe Wajima, who's the butt of endless, sexist "old maid" jokes. (She's not objectively old in ANY sense- she's late 20's- and here again we have the unfortunate, yet culturally persistent, idea that the value of a woman depreciates with age.) While watching the original series, I was kind of hoping they'd eventually pair her with Enishi, but perhaps even in Japan there's some kind of taboo against management becoming emotionally involved with The Help. I NEVER liked the woman brought in by the show, Takako Kawajiri; she had an off-kilter sensibility that reminded me of a grown-up version of Kanna from Tamako Market. The problem is that what seems funny and cute in a teenage girl might seem less so in a grown woman. And as for Tohru, the apprentice cook, he's got the handsome-but-disdainful-of-women thing going that seems to be a staple of romance novels, and I got a little tired of his snubs of poor Minko.
But this OVA has something that easily compensates for my reservations about some of the other characters- the battle of wills between Satsuki and her mom. Satsuki basically dumped Ohana on HER mom in Season One, as well as writing a bad review of Kissuiso that created a lot of grief- but she also went to some pains to point out that her negative comments about the inn were meant as constructive criticism. There was also obviously some petty revenge aimed at her mom in there as well, but her attempt to justify herself did at least give her SOME nuance. Home Sweet Home shows that Satsuki's rebellious (and later irresponsible) behavior may well have its roots in her mother's lack of compassion. Sui is a woman whose drive to manage the inn apparently left little room to love her daughter, a pattern of putting career over parenting that Satsuki seems to have taken to heart. As I said, it's been a while since I've seen the original series, but even in her "kinder" moments here Sui seems less someone who's gruff-but-with-a-heart-of-gold, and maybe more like someone who's only restrained by the impropriety of looking like a heartless monster. She's physically abusive, too, by the way. Satsuki, for her part, didn't feel suited to the lifestyle of working in an inn (many could say the same), and was in the frame of mind to eagerly accept a ticket out. The drama flows naturally from this setup, and here, as I've noted before, it's obvious that Mari Okada does have a gift for writing good dramatic scenes. Satsuki's backstory breathes life, and fire, into the show. Like Melissa, my overall rating of the series itself falls somewhere between 3 and 4 stars, but Satsuki's story made this OVA a definite 4 for me.
Just a couple other things. We finally get the origin of Ohana's name (though it's easy enough to look up the etymology I suppose.) Again, this was obviously a genuinely happy time in Satsuki's life. I wish it could have continued for her.
The closing song is very sweet.
As Ohana experiences through reading the diary, you can't watch this story without feeling a LITTLE more sympathy for Satsuki. It's amazing how much some shows can be brought to life by a character that stirs things up. — Allen Moody
Recommended Audience: Contains domestic violence and mild fanservice (community bath scene.) Crunchyroll rates TV-14; Amazon Prime (and Right Stuf) rate 13+.
---

Version(s) Viewed: Streaming on Crunchyroll.
Review Status: Full (1/1)
Hanasaku Iroha The Movie: Home Sweet Home © 2013 P.A. Works.