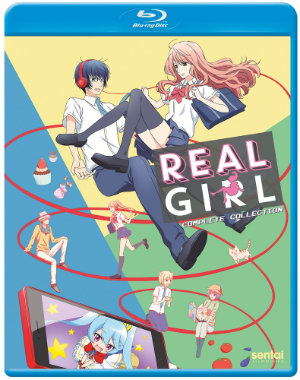 AKA: 3D彼女 リアルガール ; 3D Kanojo Real Girl
Genre: Romantic Drama/Comedy
Length: Television series, 24 episodes, 24 minutes each
Distributor: Currently licensed by Sentai Filmworks, available streaming on HiDive.
Content Rating: 14+ (Violence, fanservice)
Related Series: A live-action film
Also Recommended: Clannad; His and Her Circumstances; Horimiya
Notes: Based on manga "3D Kanojo Real Girl" by Mao Nanami, published in Kodansha's Dessert
Rating:





Real Girl
Synopsis
Hikari Tsutsui is an extremely socially awkward otaku who somehow attracts the attention (and desire!) of a beautiful "3D girl" named Iroha Igarashi, but she says she'll only have six months with him.
"Why did you act like you had to work up so much courage just to kiss me?"
"Because I felt like I was opening a door to a frightening world" - Arisa Ishino and Mitsuya Takanashi
Review
OK, I DID like the little quoted exchange (when you get to know Arisa, you'll understand), and there are some other examples of humor that I liked, particularly in the second (and better) half of the series; but it's also laden with cliches, and Hikari himself... well, where to start?
I suppose I should start by saying that, except for Iroha, everyone in the main cast can be assigned to either one of two categories- Bullies, or Cowards.
Hikari is the Coward-in-Chief. He never tries to fight back against the bullies, who are legion (including Ishino, Takanashi, Iroha's stepbrother (?) Chika, and even Hikari's own kid brother Kaoru.) Hikari's also the most indecisive person I've seen since Rent-A-Girlfriend's Kazuya Kinoshita- in fact, he's much worse than Kazuya, because while the principal(?) female interest of Kazuya, Chizuru, is relentlessly tsundere toward Kazuya, on the OTHER hand Iroha is just as relentlessly pursuing Hikari- kissing him whenever possible, and even offering to have sex with him quite early on. But when another girl that Hikari isn't interested in confesses to him, rather than the obvious answer (which would be something like, "No thank you, I'm already being chased by someone"), he simply...runs away without giving that girl any answer at all. He snubs Iroha so often that any "real girl" would have dumped him quickly. No matter how socially unskilled he is, only extraordinarily bad writing could make a character blunder THIS severely THIS often. (Hikari's favorite 2D anime character is a Magical Girl named Ezomichi, who offers him advice in his dreams (and, later, apparently in waking visions as well.) At one point, even SHE gets so fed up with him that she whacks him with her Magical Staff, which proves that she is, indeed, dedicated to dispensing Justice.)
Hikari's one friend is a fellow otaku (and member of the Coward Club) named Yuto Ito, who rather resembles Tomo-chan is a Girl's Misaki, but with cat ears- which Yuto's school seems OK with him wearing in class. Yuto eventually wants to get together with a fellow Coward named Sumie Ayado, but Yuto is neither her first choice, nor necessarily even a LASTING choice of hers. Fortunately, though, this is the sort of show that might, in time, offer at least the possibility of Happy Endings for all- even for those who are victims of anime cliches. (Which includes pretty much everyone here. Even our heroine Iroha is not spared; she might succumb to a few of the oldest ones of all.) Things may take some time to sort out, though. I'll leave it at that.
Let's now consider the Bullies, who are, if not endearing, are at least a little more interesting. The main examples are the pair in the opening quote. Takanashi was interested in Iroha, and wondered how someone like Hikari had the nerve to be with her-and he punctuates the point by punching Hikari. As, also, does Iroha's stepbrother (?) Chika, who offers her one of those "we're not related by blood, you know" come-ons. (The reason for the question mark here: she calls him her "brother", and they're not related by blood (AND are cohabiting) so we'll assume stepbrother, but the show doesn't go into the details. We DO know he's possessive of her... VERY possessive.)
Then there's Arisa Ishino, who makes Naru Narusegawa look like Gandhi. Inexplicably, several folks (particularly Hikari) ask her for advice, despite the fact that her advice is always accompanied by punches, slaps, and kicks. At one point, she kicks someone into a lake, and we KNOW that when Japanese people get wet, they always get a raging fever the next day. (Yes, I KNOW that this cliche has even turned up in shows I really LIKED- most recently, in The Dangers in My Heart- but Real Girl doesn't have nearly enough good stuff to compensate for it.) Takanashi and Ishino, one realizes, kind of deserve each other, and for once the show agrees; theirs is a memorably stormy (and at least mildly humorous) "courtship". This, again, is mostly in the (better) second half of the series.
The second half also has a surprising development involving Hikari's parents- and his dad turns out to have a memorably esoteric occupation. (It would not seem like a good one to impress women with, but IRL I once heard a man going on about the technical details of boxes with his female companion in a restaurant, so maybe this is not so much of a stretch, even though so much else in the show IS- with the prime example being Iroha's infinite patience with Hikari.)
Honestly, I think the show's bullies have an excellent point- Hikari does NOT deserve Iroha, and that has nothing to do with his being an otaku. He's so neglectful of someone who's fallen deeply for him that I never came to think of him as a particularly GOOD person, leading man or no- even if he has a change of heart when the prospect looms of actually losing her. — Allen Moody
Recommended Audience: HiDive says TV-14; Rightstuf agrees, with 14+. There's some violence, and scenes of couples in bed (though with the sheets pulled up, so even boobs are not visible, if you were hoping for that.)
---

Version(s) Viewed: HiDive digital stream
Review Status: Full (24/24)
Real Girl © 2019 Mao Nanami/Kodansha/RG Production Committee