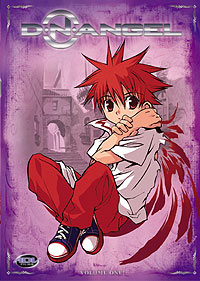 AKA: ディー・エヌ・エンジェル (D.N.Angel)
Genre: Kaitou (magical thief) show
Length: Television series, 26 episodes, 23 minutes each
Distributor: Currently licensed by Discotek Media
Content Rating: 10+ (mild violence, older girl in love with young boy)
Related Series: N/A
Also Recommended: Kamikaze Kaitou Jeanne, Lupin III, Saint Tail
Notes: This anime is based on the manga by Sugisaki Yukiru, which runs in Asuka. Sugisaki also happens to be the woman responsible for creating the doinkiness that is Rizelmine, as well as the creator of Pilot Candidate.
Rating:





DNAngel
Synopsis
Niwa Daisuke is a fourteen-year-old boy with a really weird family. Despite his family's, er, odd customs, he tries not to let that bring him down and on his fourteenth birthday he decides that he is going to change his fate. On his birthday, he confesses to his crush, Harada Risa, that he loves her. Unfortunately Risa rebukes him and says that she really wants somebody "tall, dark, and dangerous".
On the same day, his family reveals to him that he is, in fact, the reincarnation of a thief. Not just any thief, but the famous thief, Dark Mousy. When Daisuke feels romantic feelings towards a girl, he will instantly transform into Dark. And if he doesn't steal the object that he is assigned to steal, he will stay in that form forever.
Cue the hijinks.
Review
Yes folks, this IS a shoujo anime. Even though it has a guy as the main character, it's still a shoujo anime and it shows in the designs of the characters. The guys, especially Daisuke/Dark, have all the bishounen-y features of something from, oh, CLAMP. It helps that the art and animation are pretty decent for a TV series, and it's colorful, too.
But what about the anime itself? Well, the first few episodes are pretty fun. I enjoyed watching them. It helps that Dark Mousy is a very cool character (despite his stupid name). You want to find out more about him. Unfortunately, his other form, Daisuke, is rather ... bland. I don't know if "bland" can adequately describe him. Risa is also a tad annoying, and so is her twin sister Riku.
And then, once the anime hits the double digits, it turns into a harem anime, with two new characters, Towa-chan and Hio Mio, joining the cast. Both of them lust after Daisuke (gee, where have we seen this before?) and are generally doinky. On top of all that, although Mio is fourteen like Daisuke, Towa-chan is ... not. It's just plain sickening and doinky to me to see this young woman hitting on somebody obviously underage. And the anime gets less fun.
I'll still buy the DVDs of this anime, though, because as doinky as it gets in the later episodes, it never goes down to Mouse-level doinkiness. And hey, considering this anime is from the creator of Rizelmine and Pilot Candidate, it didn't stink as much as those anime did.
Fun at first, then gets really bad in later episodes. Subtract one star if you don't much like the changes this anime made from the manga. — Jennifer Berman
Recommended Audience: I don't think most parents would like the later episodes, due to Towa-chan's crush on Daisuke, but the earlier episodes are pretty much OK for older kids, with only a mild amount of violence.
---

Version(s) Viewed: digital source
Review Status: Partial (14/26)
DNAngel © 2003 Yukiru Sugisaki / Kadokawa Shoten / Project DNA / TV Tokyo