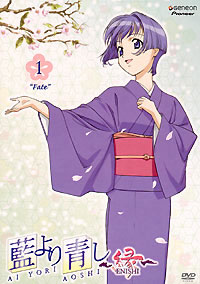 AKA: 藍より青し ~縁~, Bluer than Indigo ~ Destiny ~
Genre: Romantic drama / comedy
Length: Television series, 12 episodes, 23 minutes each
Distributor: R1 DVD/Blu-Ray from FUNimation; Geneon release out of print
Content Rating: 13+ (adult themes, brief nudity)
Related Series: Ai Yori Aoshi
Also Recommended: Ai Yori Aoshi, Maison Ikkoku, Please Teacher
Notes: Based on the manga by Fumizuki Kou, and takes place two years after the first series.
Rating:





Ai Yori Aoshi ~ Enishi ~
Synopsis
Two years have passed since Kaoru and Aoi first met. Life at the mansion has settled down, and Kaoru and Tina look forward to completing their college education. But while Kaoru and Aoi are finally ready to take the next step in their relationship, Tina seems to be almost dreading her graduation day. As she comes to terms with her feelings for Kaoru, she will make one of the most important decisions of her life ...
Review
Note that in the genre listing, things are slightly different than in my review of Ai Yori Aoshi. That is because in the second series, the animators learned from their mistakes in the first one and focused more on the strengths inherent in AYA. This series achieves something that is quite rare in sequels: it's better than the first.
However, because it is a sequel, it jumps right into the story, and given its brief length, it wastes no time in wrapping up plot threads that were left dangling from the first series. Unless you have seen all of the first series, you will be majorly lost throuout most of this show.
While there are a couple of filler comedy episodes, the slapstick in ~Enishi~ is all but non-existent. The point of the show is to resolve things between Kaoru, Aoi, and Tina. The Tina of ~Enishi~ has grown up and finally matured, so her AYA antics of groping breasts and guzzling beer are forced here. She is finally bored of living up to her party girl persona.
In fact, Tina is by far the most developed charater in ~Enishi~. Where she was merely annoying in AYA, she finally comes into her own, and you really feel sympathetic towards her. She discovers where Kaoru's heart truly lies, and makes a major decision about her future late in the show, and you can't help but respect her for it.
The music and animation are right on par with the original series. The ending theme "I Do!", by The Indigo, is a catchy, perky song that has become one of my all-time favorites.
Ai Yori Aoshi ~Enishi~ is everything that I hoped the original series would be, a touching, bittersweet drama with just enough comedy to keep the mood light. Now this is how a romantic comedy should be!
A worthy closure to a fine series. — Christi
Recommended Audience: As before, 13 and up. There isn't as much nudity or slapstick comedy as in the first series, but issues that are brought up later on, especially dealing with Kaoru and Aoi, will not be understood by young children.
---

Version(s) Viewed: digital source
Review Status: Full (12/12)
Ai Yori Aoshi ~ Enishi ~ © 2003 Fumizuki Kou / Hakusensha / Aiao Project